"Online education is great, but what about the social development of children? »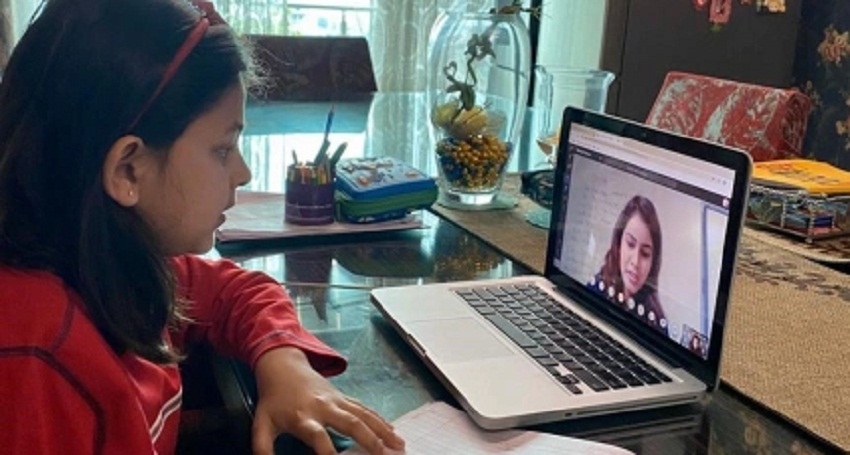 By Kartik Lokhande:
Thanks to the COVID-19 pandemic, the subsequent confinement, the restrictions on the physical conduct of lessons in schools, the children spent most of the closing school session at home. Online education, initially welcomed as a "game changer", is now seen by many, including parents, as an alternative to physically conducting classes. Because children do not go to school just to study but to meet, argue, agree, disagree and play with friends. Moreover, online education and overexposure to gadgets and the virtual world are slowly affecting their emotional growth, social development, and level of patience.
Their disinterested and unexcited approach to the things of life and their lack of usual sweet and cheerful demeanor become a source of concern for parents. This came to mind when 'The Hitavada' spoke to some of the parents. Vinod Soitkar, a government official, is the father of two sons, Jaineel and Riyan. According to him, online teaching is good, but the teacher-student interaction is not at the desired level. Indeed, students cannot dispel their doubts during online lessons. He laments that due to the prevailing situation, there is no social interaction or informal group discussion between students, and no communication between friends on topics of common interest. "Children cannot discuss everything with parents. They need someone their own age to talk to," Soitkar said. The sharing of emotional experiences is less these days. Children have no vent. As a result, they get irritated. Lack of physical activity due to outdoor movement restrictions blocks their energy. Chatting with cousins ​​via video calls is one way to share their emotions with each other.
"Kids prefer video calls because they feel like talking to someone face-to-face is a kind of comfort," he adds. But, for the situation to return to normal, he says, unfortunately, there is no choice but to wait for the end of COVID-19. Naina Sing is the mother of two daughters, Navya and Jayanti, and a housewife. She agrees that despite online classes, children's social interaction is severely affected. "Online classes are going well, but the interaction with friends, the lunchtime chats, the habit of getting up early, putting on the school uniform and the excitement of going to school. school… it's not there," she laments. In online classes, students have more exposure to technology and attendance is 100%, but what about learning, she wonders. Only objective questions, and no long answers, are asked in the tests. So there is no evolution of thought. Additionally, she points to the possibility of students cheating on online tests by keeping the video turned off. "Students are unable to derive joy from co-learning in the current situation.
No new friends are added to their lives, there is no excitement. My daughter says she doesn't feel like drawing because according to her, life is kind of colorless because of COVID-19," Singh explains. In case of physical conduct at school, it was a daily routine for her to tell me about the good or bad experiences she had during the day. "During the last school year, she was only able to go to school for four days. These four days were a kind of welcome break for her, the happiness in her voice was back," she adds. Due to lack of social interaction, lack of physical exercise, the mental and physical growth of children is affected, says Seema Sahu, a housewife and mother of a baby girl, Divyanka. "There is no learning of life skills through self-experience, no emotional experiences. Children learn in the classroom, but interaction with friends is sorely lacking. Under normal circumstances , they have to deal with friends, teachers, elders and even different situations.
This causes them to shape their responses. However, now they cannot evolve due to the confinement linked to COVID-19", she laments. Referring to her friend's family, Sahu observes that the children are busy playing games and even the brilliant students are losing interest in studies. His friend's son is brilliant at math, but is glued to a cell phone game. "Worrying trend," she says. Especially, parents of nuclear families are busy and cannot monitor their children at home 24 hours a day. "Online education has its advantages, but talking about personality development, the disadvantages are more. However , given the situation, what can we do other than wait for normal days to return?" asks Sahu. Parag Gokhale is a businessman and father of two children Gaurang and Narayani. He too believes that the COVID-19 situation and online education has impacted children.In the current situation, physical activities and social sharing are not on the agenda.
As a result, obesity and irritability are on the rise. In addition, children become more reactive than reactive. Patience to listen to elders has diminished. They stick to gimmicks. They focus more on presentability than personality. They are unable to find on their own the means to invest their energy, he says. According to Gokhale, children acquire creative ideas from cellphones, television, etc., but they harbor an emotional void deep within themselves. The development of soft skills through experience with real people, real situations, the real world is lacking. "They feel the emptiness of not being able to share with friends. If siblings are there, they can still interact with each other. But, in nuclear families, the problem takes on a greater proportion," he points out.