Presentations, socials, prizes, more to mark Graduate Studies Week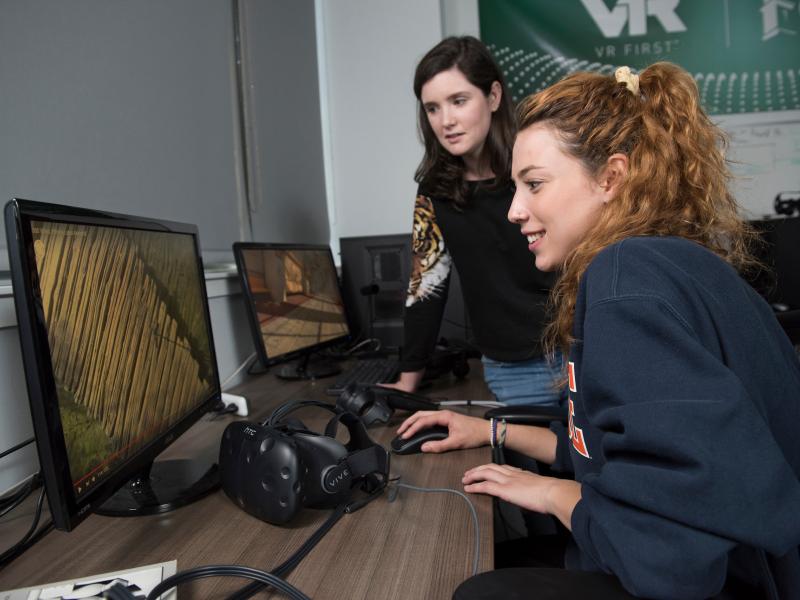 SUNY Oswego's Graduate Studies Division will celebrate Graduate Studies Week, November 8-12, with presentations, talks, awards, a range of social events and more at Oswego's main campus and on the college's Syracuse campus.
Events for Monday, November 8 will connect with National First Generation College Student Day, which celebrates students who are the first in their families to go to college. This includes First Generation faculty and staff distribute stickers, cookies, and First Generation scholarship information from 11 a.m. to 2 p.m. just outside the Marano Campus Center auditorium.
Graduate Studies is also co-sponsoring a panel of first-generation alumni at 1:45 p.m. Monday at 114 Marano Campus Center and virtually via Zoom. Panelists will include Saleem Cheeks, 2001 alumnus, vice president of communications at AngioDynamic; Nikki G. Brown, 2020 graduate, Artificial Intelligence Brand Specialist for IBM; and graduated 2011 Jenn Lee, thechief colorist at ECG; with moderators Dr. Tiphanie Gonzalez, an Oswego graduate and current Counseling and Psychology Services faculty member, and current first-generation student Damien Nguyen.
"Coffee Talk With the Dean," from 9-10 a.m. on Tuesday, November 9, at Penfield Library, Dean of Graduate Studies Dr. Kristen Eichhorn will greet students for a cup of coffee or tea (via a good) to share how their graduate experience is going, ask for advice, or provide feedback.
Current students can learn more about Oswego's graduate offerings and how to access them through "Plan Ahead!" from 11 a.m. to 1 p.m. on Tuesdays in the lobby of the Marano Campus Center. Students can learn about the college's 4+1 and five-year programs that allow them to earn a master's degree in less time and at a lower cost. Participants can also receive guidance from an admissions counselor on possible steps based on their undergraduate plans, which career areas require a graduate degree, and which offer more opportunities for graduates. mastery.
Social networks
Also on Tuesday, "Let's Catch Up – Pizza With the Dean at the Syracuse Campus" from 5:30-7:30 p.m. will provide these students with the opportunity to meet and mingle with Eichhorn, faculty, staff, and other graduate students.
On Wednesday, Nov. 10, there will be two ice cream parties for graduate students and staff: 12 p.m. to 2 p.m. in Marano's Chu Atrium in Oswego and 5:30 p.m. to 7 p.m. at the Syracuse campus.
Also on Wednesday, a 6-8 p.m. Research Night with Free Pizza at the Penfield Library will provide graduate and undergraduate students with assistance with citations, scholarly sources, writing, research and even more, in a social and collaborative setting. Penfield librarians and writing center tutors will be on hand to help.
Thursday's Graduate Week Reception and Happy Hour, 4:30-6:30 p.m. in the Sheldon Hall Ballroom, will include awards presentations for outstanding mentors and students with music from the Oswego Jazz Ensemble. This event is free and open to all, with online pre-registration available (preferred, but not required).
On Friday, November 12, three virtual round tables will be organized:
At 11 a.m., "The Mental Health Crisis: The Pandemic, Burnout, Workforce Shortages, and Access to Care" will examine current concerns and professional opportunities on this topic, with a panel made up of Oswego graduate teachers, alumni and other experts.

At 1 p.m., "Am I a fraud? ": Managing Imposter Syndrome in Graduate Schools and Beyond" will explore this common phenomenon and offer helpful advice from Oswego faculty, staff, students and alumni.

A 2:30 p.m. "Is Grad School for Me? will cover the application process, entrance exams, funding opportunities and more (

prior online registration required

).
Visit the Graduate Student Week Celebration Website for registration details and to access Zoom links to these presentations.
Additionally, the Division of Graduate Studies provides an opportunity to express gratitude to students, faculty, staff, family, and friends through the Grad-itude Project. Campus members can stop by the Marano Campus Center lobby from noon to 2 p.m. daily during grad week to pick up a postcard and drop a line to someone in their life who has made a difference and has earned their gratitude.
Furthermore Kudoboard Graduate Studies Online invites people to respond to the prompt "Graduate education at Oswego gave me the opportunity to…" to celebrate and recognize various accomplishments and accomplishments. This is a contest with prizes and gift cards available.
For more information, visit the Graduate Student Week Celebration website.