'reading mi' is a conceptual bookstore for reading and social activities in China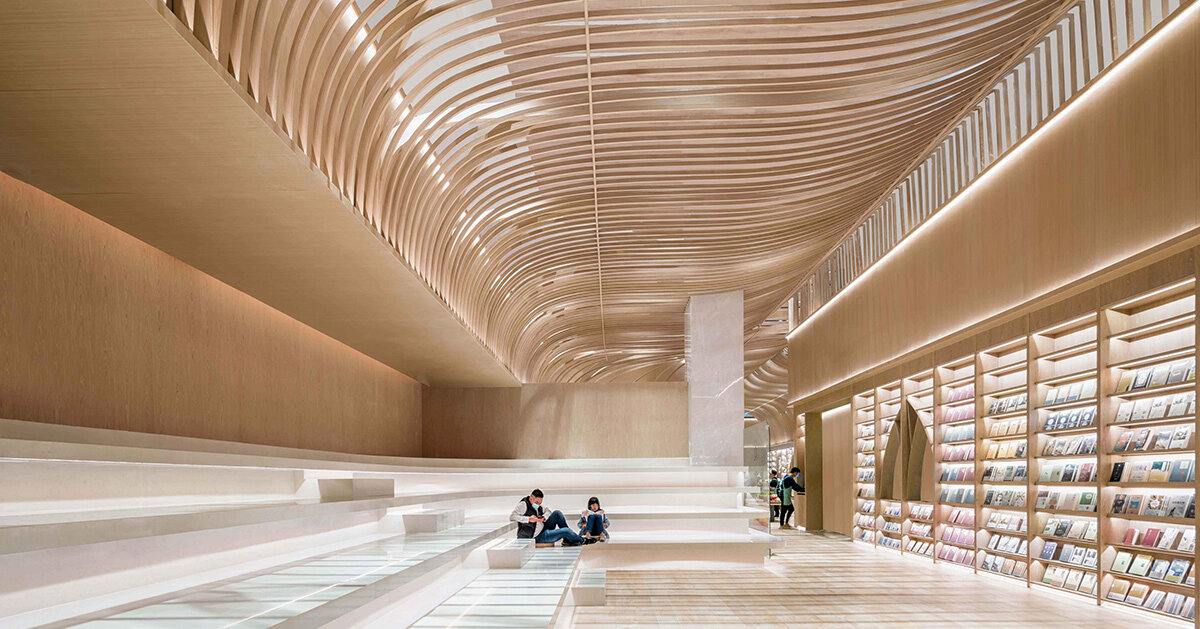 Mid Reading: An Oasis of Calm Amidst the Bustle
Amidst the bustle of China, 'Reading Mi' appears as a haven of peace surrounded by books. In the open atrium of a shopping mall in Foshan, Panorama Design Group designed a library for families which combines reading and social and cultural activities. The resulting structure consists of reading corners, a parent-child space and a café, engaging young and old on a creative journey.
The design team opted for an introverted and holistic environment that materializes through a series of abstract book-turning gestures. Upon entering the bookstore, 'Reading Mi' welcomes its guest with a 'hall of knowledge' entrance. There, a herringbone ceiling in the shape of an open book draws the eye skyward. 'This double-height space serves as a starting point for guests to clear their minds and is particularly conducive to contemplation, while those on the upper floors can also glimpse the endless books and treasures below.all images by Panorama Design Group
a cultural space for families
'Reading Mi' is a cultural concept bookstore founded by 'Yoyi Book' brand in 2014. The design team opted for abstract formations that interpret the forms of the books translated into an architectural language everywhere. The project includes a family and theater area, retail space and cafe. Each spot is meticulously crafted to provide customers of all ages with a distinct reading experience.
Geometric curves create the perfect atmosphere to accommodate a calm and imaginative reading space for children and parents. To further enhance the quality time the family can spend together, there is a central courtyard space equipped with dim lighting. As the architects mention, it provides a platform for family interaction'to discover tales and theatrical performances.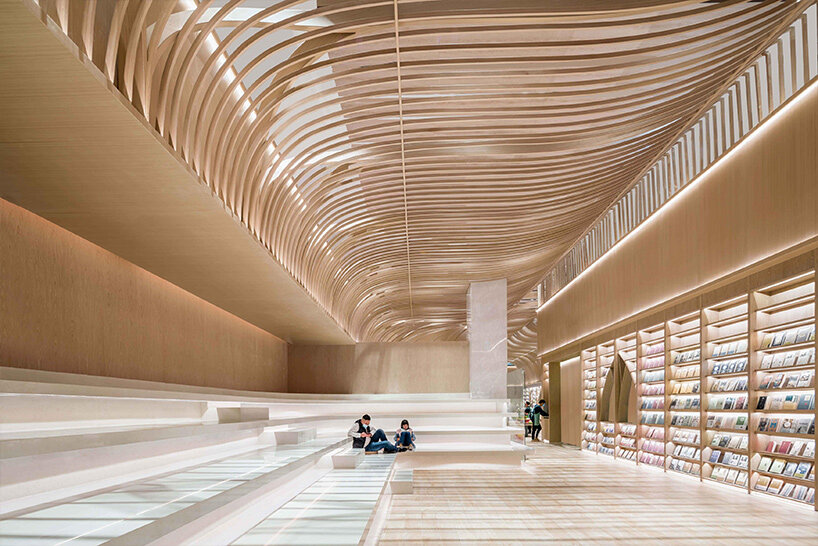 100-seat open-plan theater
multifunctional spaces that engage the whole family
Next, a multifunctional open-plan theater extends from the lobby, providing a quiet and relaxing space for casual reading, press conferences, and group study activities. Here, we find white stone seats at different levels surmounted by a ceiling in the shape of a half-open book. As for the retail area, dim lighting paired with a playful sculptural roof inspired by paper art, provides a tranquil shopping experience for knowledge exploration. The calm atmosphere also follows the cafe, a hybrid space taking shape under a tree-like sculpture, where one can have a drink while reading a book.
Panorama Design Groups envisions the bookstore as 'a testament to the full soul of a city and a shelter for cultural growth. This metaphor-rich book haven explored full-fledged interpretations of the themes of site, literature, and spirit.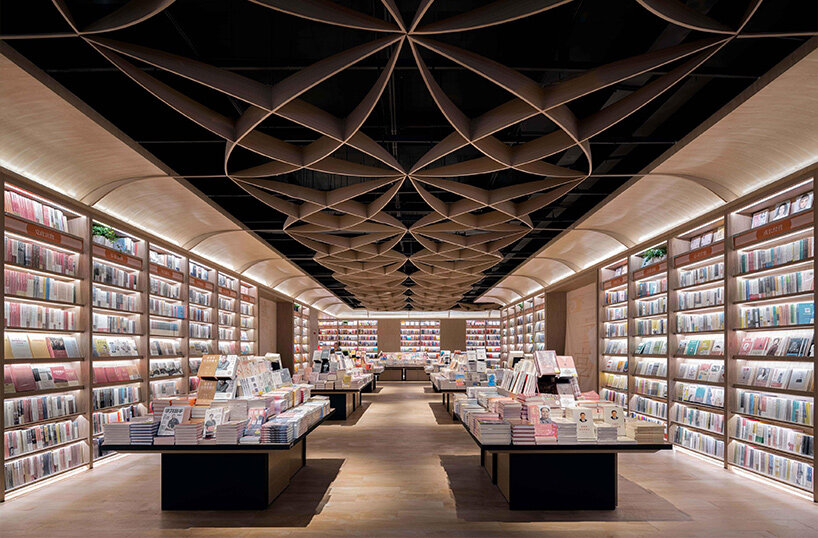 commercial area ceiling inspired by paper art