Social activities in Okinawa on a tightrope amid rising Covid-19 cases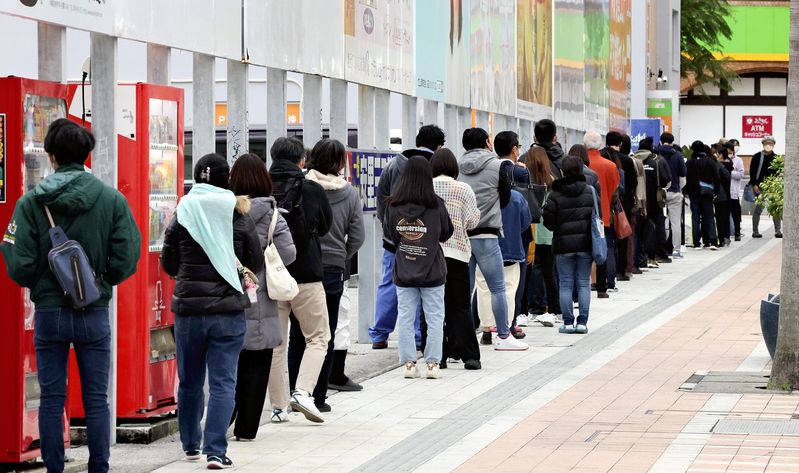 January 19, 2022
TOKYO — Despite the continued spread of the omicron variant of the novel coronavirus in Okinawa Prefecture, citizens cannot get tested quickly. The spread of the virus has prevented essential workers infected or in close contact with infected people from coming to work, leaving the prefecture's business and social activities in a precarious state.
■ Long queue for testing
A long queue forms every day outside a privately operated PCR testing site on Naha's now unusually quiet Kokusai-dori Street, where souvenir shops and usually bustling restaurants remain closed.
"My son has been in close contact with infected people. But I couldn't get him to take a public test, so we came here," a 48-year-old company employee from Naha said on Saturday, queuing with his 6-year-old son.
An infection was confirmed on January 11 at the Naha kindergarten where her son attends, and the boy was considered a close contact. However, the preschool told the man that his son would have to wait about a week to take a public test.
Half of the 10 employees at a call center where the man works are absent due to infections or close contacts. According to company rules, the man cannot go to work unless his son tests negative. Although his son has no symptoms to suggest he is infected, the man said: "I am worried that I don't know if [my son] is infected and also that I cannot go to work.
The prefectural government has set up a system to test up to 26,000 people a day, but it is actually only testing around 20,000 a day due to a lack of staff. Rapidly increasing demand for free testing among the general public in Okinawa has led to delays in testing for high-priority people, such as close contacts.
■ Work on days off
The clogged testing system has worsened the shortage of essential workers.
Ten of about 50 staff at an elderly care facility in Okinawa's central prefecture have missed work due to infection or close contact, worsening an already labor shortage. serious due to a national entry ban for foreign technical trainees.
The facility managed to keep running by reducing users' bathing from everyday to once every three days, as well as reducing meals from three to two a day while maintaining nutrition.
The central government on Friday decided to shorten the quarantine period for close contacts from 14 days to 10 days. It can be further shortened for essential workers if they have a negative PCR test result on day six or a negative antigen test result on days six and seven after close contact with an infected person.
The aged care facility initially sought PCR tests for its absent staff, but found no institution to accept the samples quickly. As a result, he bought 20 antigentesting kits instead on Monday.
"We will get the tests done and get our staff back to work as soon as possible," the facility manager said.
Fire departments and crèches are in the same situation.
At the Okinawa Tobu Fire Department, which covers the three towns of Yonabaru, Haebaru and Nishihara, nine of 94 staff members are absent, preventing the dispatch of one of its six ambulances.
"Some members are on duty on their days off. We are on a tightrope," a ministry official said.
Eight of the 21 hospitals that have been designated as priority facilities for COVID-19 treatment are also not accepting outpatients, and 40 of the 246 preschools or kindergartens in Naha were closed on January 12 due to lack of staff.
■ Ask for help
A delivery service for around 9,000 COVID-19 patients at home is also in a precarious situation.
The Haebaru Welfare Board leaves basic necessities such as food and toilet paper free of charge at the entrance to patients' homes. Four of its employees have been absent from work.
"We don't know if we will be able to maintain our operations if the number of absent employees continues to increase at this rate," said a 47-year-old municipal staff member in charge of food supply.
Truckers who deliver food and basic necessities also took time off work.
Increasing the number of tests is necessary to facilitate the return of close contacts to their workplace. The prefectural government plans to ask laboratories outside the prefecture to carry out PCR tests, while encouraging commercial operators to use antigen test kits. Speech