Statement Calling on Social Development and Housing Minister Brad Trivers to Immediately Hold a Public Meeting on the Community Outreach Center – PEI Official Opposition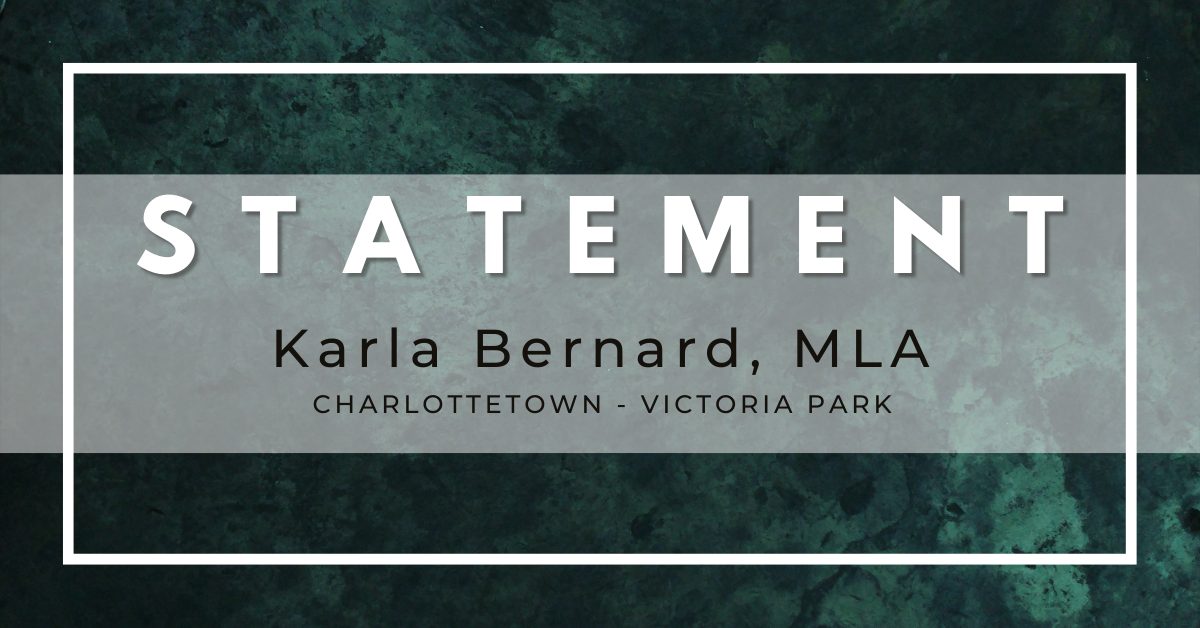 FOR IMMEDIATE RELEASE
May 30, 2022
Statement by Karla Bernard, MPP for Charlottetown-Victoria Park, calling on Social Development and Housing Minister Brad Trivers to immediately hold a public meeting on the Community Outreach Center
---
The Charlottetown-Victoria Park community does not feel safe. The community has serious concerns about the safety and security of its residents and the clients of the Community Outreach Centre.
By ignoring the concerns of the community and the concerns of the customers, by choosing to distort reality or to ignore it, the Minister responsible chooses to jeopardize the safety of the community of Charlottetown-Victoria Park.
Many expressed concerns about the litter around the Centre, including the safe disposal of used needles. There have been thefts among residents, including bike thefts. There are concerns about loitering. There aren't enough shelter beds in Charlottetown, so people are sleeping in hallways of private buildings, backyards and in tents wherever they can find space. These are the direct consequences of a government that has not invested in the people and the services they need.
I have brought these concerns to the attention of Minister Trivers on numerous occasions, both publicly in the House and in conversations, meetings and emails. In each case, the minister questioned my account of the concerns of constituents in my riding. His willful ignorance of the issues and his refusal to act caused a crisis in our community.
Enough is enough.
The government has funded the Community Outreach Center to the tune of just over $1 million per year and, as Minister, is responsible for the delivery of services by the Community Outreach Centre. This includes funding it and helping determine how to use those funds to keep customers and community members safe.
But, the Community Outreach Center is a day service to support vulnerable populations and connect them to services and supports. It is not a refuge.
The Minister is responsible for ensuring that there is adequate shelter and enough space each night for those who need it. PEI has one of the lowest numbers of emergency shelter beds per 10,000 people in the country; in fact, two of the facilities that provide shelter have exceeded capacity in recent months. It is clear that our gaps in shelter beds are not being filled by this government, especially since our most recent street count by John Howard Society PEI shows homelessness is on the rise.
I ask Minister Trivers to immediately hold a public meeting with the community – not next month, not next fall, now, right now. He must give the people of Charlottetown-Victoria Park – the residents, businesses and clients of the Community Outreach Center – the opportunity to speak openly and publicly with him face to face.
Minister Trivers, stop hiding, stop ignoring, stop denying. It's time for you to do the job you were appointed to do.
Karla Bernard, MLA Charlottetown-Victoria Park
Official Opposition Green Caucus
-30-
For media inquiries, please contact:
Jonathan Hamel
Communications Director
Official Opposition Office
Tel: (902) 213-0718
Email: [email protected]