The Minister of Social Development meets his Algerian counterpart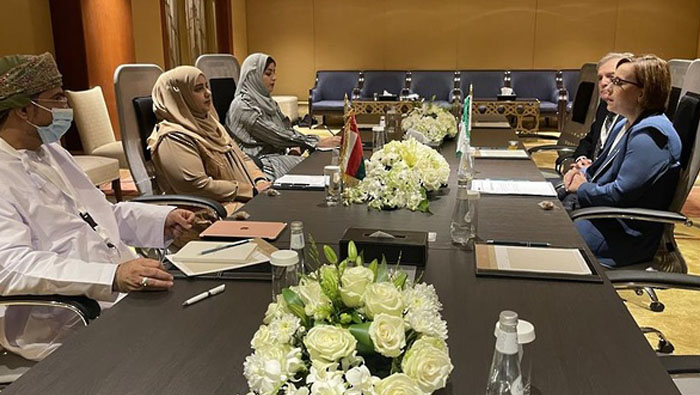 Riyadh: Dr. Laila Ahmed Al Najjar, Minister of Social Development met yesterday Kawthar Kriko, Minister of National Solidarity, Family and Women's Status of the People's Democratic Republic of Algeria.
The meeting took place on the sidelines of the deliberations of the 41st session of the Council of Arab Ministers of Social Affairs held in Riyadh, Kingdom of Saudi Arabia (KSA).
The two sides discussed aspects of cooperation between their ministries in areas related to women's economic empowerment, services for people with disabilities and services for the elderly, as well as maternity, childhood and family. in general.
The two sides also discussed other areas of interest for the Ministry of Social Development and ways to improve them and to exchange experiences in various social fields.
During his visit to the Domestic Violence Reporting Center, Dr Laila Al Najjar was briefed on KSA's experience in the area of ​​protection of women and children.
She also listened to a full explanation of the working mechanism starting from the reception of the appeal, the direct intervention of the center and the authorities concerned, and the means of ensuring protection, rehabilitation and reform.
Dr Laila Al Najjar visited the Center of Excellence in Autism (ACE), which is one of the exemplary centers in its field.
The Minister of Social Development praised the volume of services provided in the two centers. She noted that this was an experience worth benefiting from and implementing in the future.