Tibet prospers after a decade of economic and social development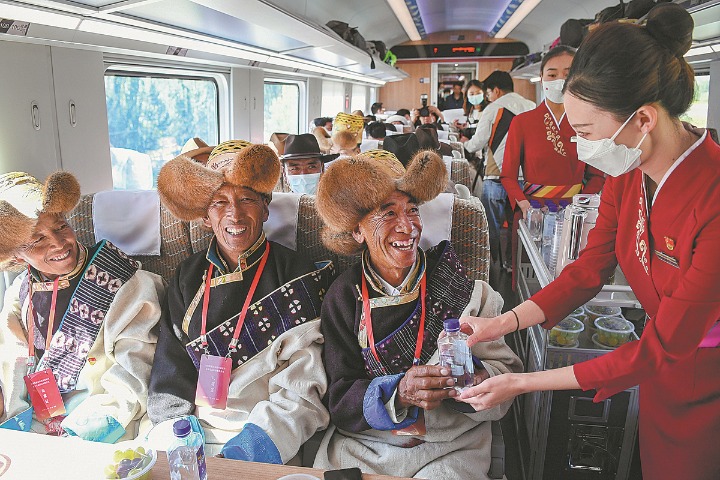 Dawa Gyaltsen struggled to hide his excitement as he recalled the details of his face-to-face meeting with President Xi Jinping, even though it had been more than a year since the meeting took place.
The resident of Galai, a village in Nyingchi, Tibet Autonomous Region, welcomed the president to his home on July 21 last year during Xi's historic visit to the region, which celebrated the 70th anniversary of his peaceful release.
"Xi asked detailed questions about our living conditions. He wanted to know how we emptied the sewage from our toilets and how we heated the water for the shower. He also felt the grain in our barn with his hands, posing questions about yield and storage," he added. said the villager.
Sitting with the family members in their living room, Xi also inquired about their income and how they earned it.
"He encouraged me to give a good education to my two children, asking each of them about their dreams for the future," said Dawa Gyaltsen.
"My family found the president to be easy-going, kind and caring about their lives, which really warmed our hearts."
Galai, home to more than 1,200 wild peach trees, is said to be the first village in Tibet where such trees bloom every spring.
In 2002, the village held its first peach blossom festival. In addition to flower appreciation events, residents performed traditional dances, launching a new tourist attraction.
Dawa Gyaltsen, 38, who was born and raised in the village, said his family members could barely make ends meet as a child when they relied on upland barley farming and the sale of yaks.
Today, thanks to money from the sale of yaks and butter, and other forms of income, he earns more than 10 times more than his parents.
Xi described Galai as a place where "the flower of national unity and progress" blooms, and where life embodies Tibet's economic and social development over the past decade.
Tibet was once the only impoverished provincial region in China. It had the highest per capita poverty incidence in the country and the greatest difficulty in reducing poverty.
In 2015 and 2020, Xi spoke at high-level symposia on Tibet-related work, outlining policy directions for the region's growth in the new era.
In recent years, Tibet's economy has shifted from rapid growth to high-quality growth, with its GDP reaching 208 billion yuan ($30.3 billion) in 2020 from 70.1 billion yuan in 2012. Per capita disposable income among rural residents in the region in 2020 was 16,935 yuan, up from 5,645 yuan in 2012.
By the end of 2019, all 74 impoverished counties in Tibet had been removed from the list of poverty-stricken areas, with more than 620,000 people lifted out of poverty.
In 2020, the average life expectancy in the region was 71.1 years, compared to an average of 35.5 years before its liberation, and families were offered a 15-year free education program.
Over the past decade, the average life expectancy in Tibet has increased by four years.
Kelsang Drolma, who studies Tibetan economy and society at the China Tibetology Research Center, said the central government aims to ensure the region pursues sustainable development, as it is essential to protect the environment on the Qinghai-Tibet plateau for the development of the whole nation.
"By focusing on Tibet's green and inclusive development, the central government has highlighted the region's key role in national development," she said.
Kelsang Drolma added that by becoming stronger, boosting its economy and modernizing its industrial structure, Tibet is expected to play a greater role in development and national security, as well as environmental protection and energy reserves.